Enligt den senaste katastrofalarmistiska rapporten från FN, den här gången från organet IPBES (The Intergovernmental Science-Policy Platform on Biodiversity and Ecosystem Services)  riskerar 1 miljon arter utrotning. Det är minst 25% av alla arter, och skulle sannolikt leda till kollaps av hela ekosystem, kanske slutet för mänsklig civilisation. Här är AP.s rapportering.
Enligt IPBES beror det på människans aktivitet, inte bara global uppvärmning, utan också skogsskövling, miljögifter, övergödning, överfiskning och andra faktorer, som ytterst beror på det moderna ekonomiska och sociala systemet som bygger på tillväxt och ohållbar resursanvändning. Slutsatsen är följaktligen att detta system måste ändras så att det blir hållbart, vilket ligger i linje med målsättningarna i Agenda21/2030.
Den här rapporten har (givetvis) fått stor och helt okritisk spridning, men den är inte vetenskapligt försvarbar.
Först och främst så bygger den på mycket tveksamma metoder. Inte bara rent vetenskapligt, utan också för att man tillämpat samma beslutsprocess som FN:s klimatpanel, där det i slutändan är politiker och byråkrater som bestämmer vad som ska stå i rapporten. Journalisten Donna Laframboise, som tidigare avslöjat det politiska rävspelet i FN:s klimatpanel, beskriver den absurda processen, som även tillämpas av IPBES:
"[The UN] draft a summary known as the Summary for Policymakers (SPM). Then politicians and bureaucrats representing national governments attend a plenary meeting where the summary gets examined line-by-line and rewritten…But it gets worse. Over the next few weeks, the text being summarized – the underlying, ostensibly scientific document – will also get changed. That's not how things normally work, of course. Summaries are supposed to be accurate reflections of longer documents. At the UN, they represent an opportunity to alter those documents, to make them fall into line…This is no sober scientific body, which examines multiple perspectives, and considers alternative hypotheses. The job of the IPBES is to muster only one kind of evidence, the kind that promotes UN environmental treaties." […] "That's how the United Nations works, folks. Machinations in the shadows. Camouflaging its political aspirations by dressing them up in 1,800 pages of scientific clothing." (Källa)
Så hur har man kommit fram till att 1 miljon arter är hotade? Marc Morano, som driver bloggen Climate Depot, förklarar:
"The IUCN's Red List website says that 'more than 27,000' species 'are threatened with extinction'. So how did the IPBES arrive at the one million figure? The key passage in the summary for policymakers reads as follows: 'An average of around 25 per cent of species in assessed animal and plant groups are threatened, suggesting that around one million species already face extinction, many within decades, unless action is taken.' The word 'suggesting' is doing a lot of work there. On the Red List website, it says 98,500 species have been 'assessed' — and the IPBES worked out what percentage 98,500 was of the total number of species and multiplied the 27,000 figure accordingly. That's a difficult calculation to make, given that the number of species in the world is unknown. The most reliable estimate is 8.7 million (with a margin of error of plus or minus 1.3 million), but even the compilers of that stat acknowledge that 86 per cent of all species on land and 91 per cent of those in the seas have yet to be discovered, described and cataloged. So how exactly did the IPBES arrive at the magic one million number? It seems we're just supposed to take it on faith, which the BBC duly did." (Källa)
Enligt IPBES kan vi förvänta oss att se 25 000 utdöda arter per år, trots att genomsnittet för de senaste 40 åren är 2 arter per år. Enligt International Union for Conservation of Nature (IUCN) är dessutom trenden minskande ända sedan 1870 (källa):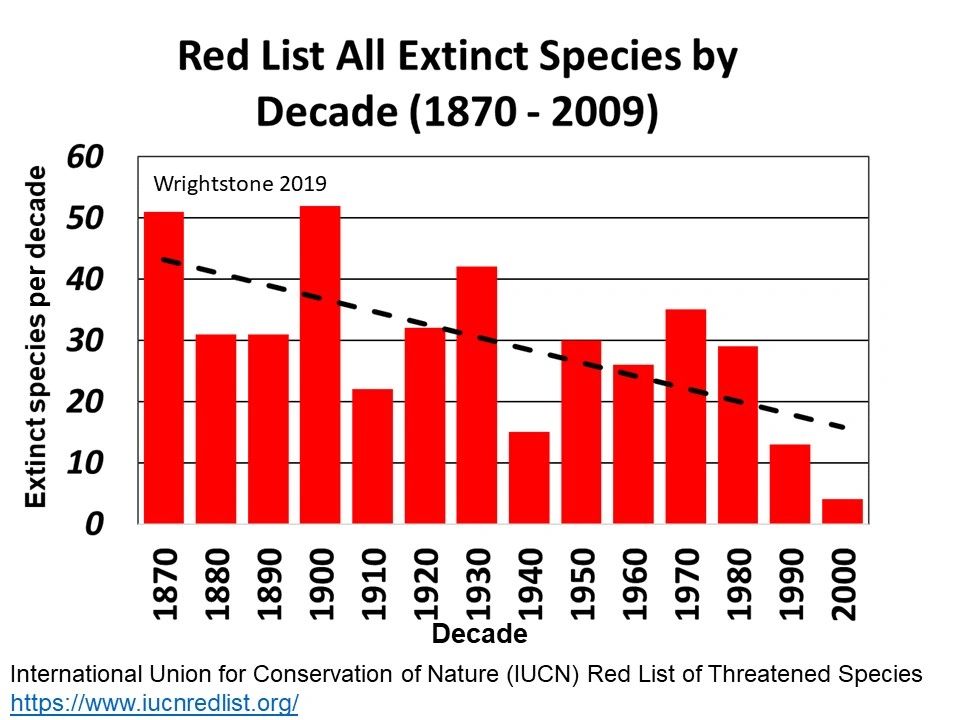 "A closer review of the most recent information dating back to 1870 reveals that, instead of a frightening increase, extinctions are actually in a significant decline. What is apparent is that the trend of extinctions is declining rather than increasing, just the opposite of what the new report claims. Also, according to the IPBES report, we can expect 25,000 to 30,000 extinctions per year, yet the average over the last 40 years is about 2 species annually. That means the rate would have to multiply by 12,500 to 15,000 to reach the dizzying heights predicted. Nothing on the horizon is likely to achieve even a small fraction of that." (Källa)
Men IPBES presenterar istället den här grafen:
Hur går det ihop? Jo, dels för att den här kurvan är kumulativ, dvs den visar inte hur många arter som utrotats ett visst år, utan det sammanlagda antalet fram tills dess, och dels för att den klumpar ihop data per århundrade istället för per decennium, som IUCN gör (källa):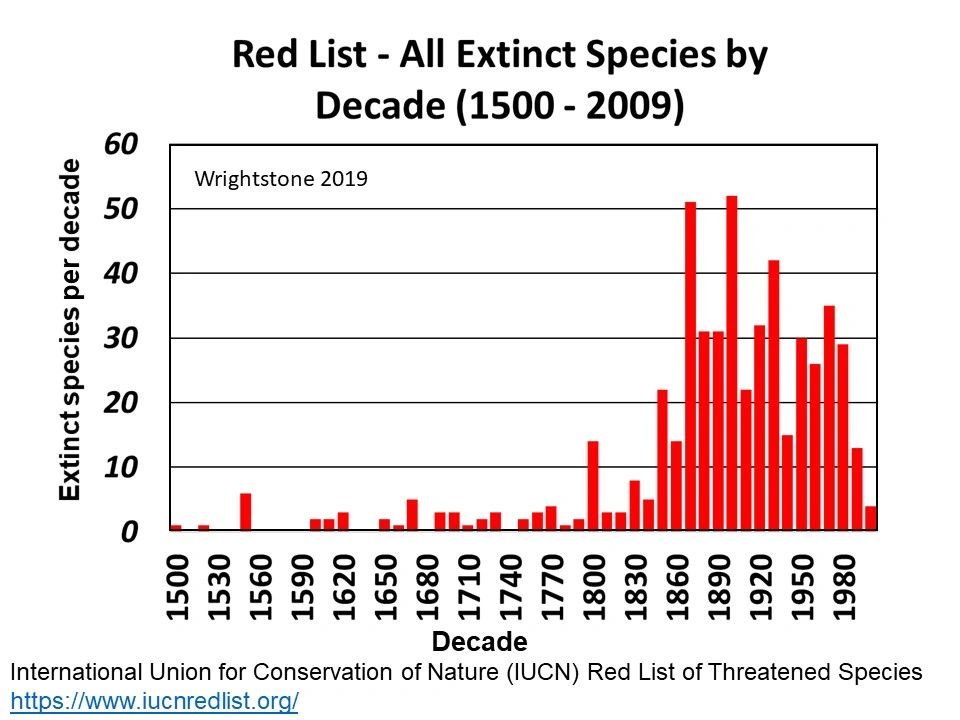 Här är en noggrann genomgång av forskningen kring fåglar och däggdjur: Loehle & Eschenback, Diversity and Distribution 2012.
Om det moderna industrisamhället till en början medförde att att många arter blev utrotade, så har det ökade välståndet successivt gett oss kunskap, resurser och incitament att alltmer framgångsrikt vårda vår miljö och livsformerna omkring oss.
Enligt tidningen The Spectator har IPBES också en väldigt vid definition av "utrotningshotad" eftersom man även räknar med alla djur som betraktas som "sårbara", vilket betyder att de bedöms löpa 10% risk att utrotas inom 100 år:
"What about the IPBES's claim that 'around 25 per cent of species… are threatened'? That seems a little pessimistic, given that the number of mammals to have become extinct in the past 500 years or so is around 1.4 per cent and only one bird has met the same fate in Europe since 1852. Not bad when you consider how much economic growth there's been in the past 167 years. So what does 'threatened' mean? The IPBES is using the IUCN's definition, which is 'at high risk of extinction in the wild'. Rather implausibly, the IUCN includes species in this category that it designates as 'vulnerable', which it defined as facing a 'probability of extinction in the wild' of 'at least 10 per cent within 100 years'. About half the species the IPBES includes in its 25 per cent figure are in this 'vulnerable' category." (Källa)
FN har länge överdrivit hur många arter som utrotas:
"Every hour, three species disappear. Every day, up to 150 species are lost. Every year, between 18,000 and 55,000 species become extinct. The cause: human activities. …Climate change is one of the major driving forces behind the unprecedented loss of biodiversity." —  Tal den 21 maj 2007 av Ahmed Djoghlaf, sekreterare i the Convention on Biological Diversity under the United Nations Environment Programme (UNEP). (Källa)
Dessa påståenden har dock inget vetenskapligt stöd, exempelvis enligt artikeln Re-assessing current extinction rates (Neil Stork, Griffith University) i tidskriften Biodiversity and Conservation (2010):
"So what can we conclude about extinction rates? First, less than 1% of all organisms are recorded to have become extinct in the last few centuries and there are almost no empirical data to support estimates of current extinctions of 100 or even one species a day."
Ed Young skriver i artikeln Is the Insect Apocalyps Really Upon Us? (The Atlantic, 2019) att: "The data on insect declines are too patchy, unrepresentative, and piecemeal to justify some of the more hyperbolic alarms. At the same time, what little information we have tends to point in the same worrying direction…The claim that insects will all be annihilated within the century is absurd. Almost everyone I spoke with says that it's not even plausible, let alone probable. "Not going to happen," says Elsa Youngsteadt from North Carolina State University. "They're the most diverse group of organisms on the planet…The sheer diversity of insects makes them, as a group, resilient—but also impossible to fully comprehend. There are more species of ladybugs than mammals, of ants than birds, of weevils than fish."
De största hoten mot artrikedomen är att habitat minskar eller försvinner, samt att främmande arter tränger in. Det är faktorer som i hög grad beror på människan, och som behöver minimeras så långt möjligt. Men det handlar inte alls om global uppvärmning, och det är framför allt vissa områden på jorden som är utsatta. I artikeln Fauna in decline: Beyond extinction (Science, 2014) skriver John C. Briggs vid Oregon State University att "Most extinctions have occurred on oceanic islands or in restricted freshwater locations, with very few occurring on Earth's continents or in the oceans."
I artikeln Species–area relationships always overestimate extinction rates from habitat loss (Fangliang He and Stephen P. Hubbell, Nature, 2011) konstateras dock att de metoder som används dessutom ofta överskattar förlusten av arter:
"The most widely used indirect method is to estimate extinction rates by reversing the species–area accumulation curve, extrapolating backwards to smaller areas to calculate expected species loss. Estimates of extinction rates based on this method are almost always much higher than those actually observed."
I artikeln Will Global Warming Really Trigger Mass Extinctions? (Spiegel, 2014) beskriver Axel Bojanowski FN:s egna tveksamheter:
"The draft report includes a surprising admission by the IPCC — that it doubts its own computer simulations for species extinctions. 'There is very little confidence that models currently predict extinction risk accurately,' the report notes. Very low extinction rates despite considerable climate variability during past hundreds of thousands of years have led to concern that 'forecasts for very high extinction rates due entirely to climate change may be overestimated'."
Enligt Bojanowski erkänner FN att det faktiskt inte finns bevis för att global uppvärmning orsakat utrotning av en enda art:
"The IPCC admits that there is no evidence climate change has led to even a single species becoming extinct thus far. At most, the draft report says, climate change may have played a role in the disappearance of a few amphibians, freshwater fish and mollusks. Yet even the icons of catastrophic global warming, the polar bears, are doing surprisingly well."
Och ändå vill man att vi ska genomföra drastiska förändringar, avskaffa det ekonomiska system som skapat det moderna välståndet, byta från pålitliga och billiga energisystem till otillräckliga, opålitliga och dyra, och ändra vår livsstil i grunden.
Självklart är det klimatmodellernas värsta prognoser om den förväntade katastrofala globala uppvärmningen som ligger bakom oron för en kommande massutrotning, och kanske överdriver man för att få folk att reagera. Om du delar den oron rekommenderar jag dig att läsa på www.klimathotet.com. Jag skriver särskilt om klimatmodellerna i kapitel 7.
Generellt skulle ett varmare klimat med mer koldioxid i atmosfären vara gynnsamt för allt levande. Och om vi talar biologisk mångfald – var på jorden är artrikedomen störst? Där det är kallt eller där det är varmt?
Jag har tidigare skrivit om att koraller gillar värme (28 april 2019) och även alger verkar ha en förmåga att anpassa sig: Potential for adaptation in response to thermal stress in an intertidal macroalga (Jennifer Clark, University of Technology Sydney, 2013).
Självklart skulle extrem värme kunna vara förödande, men den uppvärmning vi har sett hittills är mild och gynnsam, och har bidragit till att det växer bättre på jorden, vilket i sin tur talar för att klimatet inte är så känsligt för ökade halter av växthusgaser som FN:s klimatmodeller förutsätter. Ett varmare klimat ger mer nederbörd på grund av ökad avdunstning och lugnare väder på grund av att temperaturskillnaden mellan ekvatorn och polerna minskar. Och koldioxiden gör att det växer bättre, även i torrare områden.
Däremot är många av de "gröna" klimatåtgärderna ett reellt hot mot den biologiska mångfalden. Även om rovdrift definitivt är bland orsakerna till att arter utrotas, så kan även grön klimatpolitik vara negativ för miljön. Geologen Gregory Wrightstone pekar exempelvis på de negativa miljöaspekterna av sol- och vindkraft:
"In an incredibly ironic twist that poses a difficult conundrum for those who are intent on saving the planet from our carbon dioxide excesses, the new study reports that the number one cause of predicted extinctions is habitat loss. Yet their solution is to pave over vast stretches of land for industrial-scale solar factories and to construct immense wind factories that will cover forests and grasslands, killing the endangered birds and other species they claim to want to save." (Källa)
Den "gröna klimatpolitiken" medför att regnskog skövlas för att odla biobränslen, palmolja, sojabönor och "klimatkompenserande" monokulturer – och det sker även på mark som annars kunde användas till att producera mat, med stigande livsmedelspriser som följd.
Däremot verkar industriellt skogsbruk inte nödvändigtvis ha de katastrofala effekter på regnskogen som vi ofta föreställer oss:
"Duke University, published a study on the effects of logging in Indonesian rainforests. Dr. Charles Cannon examined land both one year and eight years after it had been commercially logged. What he found surprised many. Indonesia's forests were recovering quickly from logging operations, with a healthy mix of plant species…Robin Chazdon, an ecologist from the University of Connecticut, has studied tropical rainforests for more than 20 years. Dr. Chazdon wrote this editorial that accompanied Dr. Cannon's study in Science Magazine. "I do think that we have underestimated the ability of the forest to regenerate," Chazon said. Scientific reforestation efforts are paying off in parts of the Amazon. In 1982, miners cleared a large tract of land in western Brazil. Once finished, they hired scientists to reforest the territory. New studies show that the rejuvenated forest is virtually indistinguishable from its original form. Ninety-five percent of the original animal species have returned. Proponents say these attempts at sustainable logging lowered costs and increased productivity, proving that man and nature can coexist in the Amazon." (Källa)
Nyckeln till framgångsrik miljövård är samhällen som är resursstarka nog att inte tvingas prioritera ren överlevnad. Rika länder har bättre miljö och bättre förutsättningar att vidta de åtgärder som krävs för att bevara biologisk mångfald.
JoNova sammanfattar det bra (källa):
"Wealthy countries are solving all of these problems faster than poor countries are. The best way to save the wilderness is to increase the GDP of those in poverty. Free trade, fair agricultural markets. Less red tape. Less corruption. We've tied up lots of land, so the last thing we want is to use wilderness for useless solar and wind farms, or palm oil plantations. Why keep coal and uranium underground when we can save the forest instead? Again, in nations where there are healthy economies, fish stocks are being protected and are recovering. Whales too. Even great white sharks."
Ökat välstånd är också nyckeln till minskad befolkningstillväxt, vilket i sin tur medför att människans miljöpåverkan minskar.
Att i panik avveckla användningen av fossila bränslen kommer med stor sannolikhet att göra oss alla fattigare både som individer och samhällen, och därmed dessutom sämre rustade att bedriva framgångsrik miljövård.
Jim Steele kommenterar rapporten från IPBES
Ekologen Jim Steele var chef för Sierra Nevada Field Campus from 1984 to 2010 och utredare vid the U. S. Forest Service Neotropical Migratory Bird Monitoring. Hans lysande kommentar sammanfattar allt (källa):
"My professional career was dedicated to promoting wise environmental stewardship. Despite my years of research to advance biodiversity, I'm gravely concerned about the recent Summary for Policymakers by the Intergovernmental Science-Policy Platform on Biodiversity and Ecosystem Services (IPBES), where it suggests that 1± million species are now threatened with extinction.
Based on my experience, that number is greatly exaggerated. It appears this
organization grossly overstated species threats in order to promote their stated agenda that "goals for 2030 and beyond may only be achieved through transformative changes across economic, social, political and technological factors."
The International Union for the Conservation of Nature (IUCN) is considered the gold standard for identifying threatened species. As of 2019, they estimate that there are 1,733,200 described species (not total species) of which less than 10% (just 98,512) have been evaluated to some degree. Of those evaluated species 27,159 species appear threatened with extinction to some degree. That is a reason for concern, but the IUCN estimates of species loss are a far cry from a million.
The IPBES suggested that the total number of threatened species could be derived by calculating the proportion of yet-to-be-evaluated species, using the same proportion of evaluated species that are considered threatened. Still such speculative math would still only result in 461,621 threatened species — again quite a few less than a million.
To reach 1± million threatened species they stated, "The proportion of insect species threatened with extinction is a key uncertainty, but available evidence supports a tentative estimate of 10 per cent." They then state that insects comprise 75% of the known 8± million animal and plant species. However that results in an estimate of 6± million insect species which 6 times greater than the scientific consensus. Such misleading exaggerations suggest this group has a hidden agenda.
A key understanding is that 75%± of all mammal, bird, reptile and amphibian
extinctions have occurred on islands, and 86% of those extinctions were the result of introduced non-native species. Island species had not evolved the defences needed to resist introduced rats, cats and stoats. For example, in Hawaii the introduction of mosquitos and avian malaria in the 1800s decimated Hawaii's native birds.
Due to invasive species, 41%± of all highly threatened species (Endangered and Critically Endangered) now live on islands. The current threats to most island species are not the result of what humans are doing wrong today, but the result of introductions a century ago. Now aware of the problem, humans are trying to fix it. Private conservation groups and public land managers are now working to eradicate invasive species, but those efforts require much more resources. If IPBES was truly concerned about protecting threatened species, they could simply fund these eradication efforts. There is no need for "transformative changes across economic, social, political and technological factors."
Furthermore the IUCN's criteria for designating threatened species (the total of Critically Endangered, Endangered and Vulnerable species) allows for much subjectivity. That subjectivity allows for overstating a species condition which would inflate the threat. For example to classify a species as "Threatened," all one needs is "an observed, estimated, inferred or suspected population size reduction" The magnitude of the reductions determines if a species is Vulnerable, Endangered or Critically Endangered.
That criteria is accurate for well-studied species for which quantitative studies have been carried out. However many ICUN evaluations "have no quantitative data available on densities or abundance" from which to determine the threatened status. The population reduction is then just inferred or suspected.
An example of the problem with speculations is the Adelie Penguin. It was classified as a species of Least Concern in 2009, with a population of about 4± million individuals throughout Antarctica. They were up-listed to Near Threatened based on a 2010 climate modeling study that speculated global warming would reduce the sea ice they needed to rest on during the winter. However, after more intensive studies, researchers realized Adelie populations were actually increasing, and had now doubled to 8± million
individuals. Due to good quantitative studies, the IUCN reclassified Adelies as Least Concern again.
Speculation that a million species are threatened with extinction does not fully account for the conservation efforts that are improving species once they have been identified as Endangered. For example our current hunting regulations have allowed many whale species to return from the brink of extinction. Humpback and Bowhead whales were listed as Endangered in the 1980s. They have now recovered and are listed as species of Least Concern. Quantitative studies allowed for wise hunting quotas that quickly
reduced the threat to many species. Again, there is no need for a "transformative changes across economic, social, political and technological factors."
Loss of habitat is a key factor that can result in species becoming endangered — and sometimes it is political decisions that can lead to these species threats. For example, government attempts to promote biofuels based on speculations about climate change have disrupted ecosystems and threatened more species. The European Union subsidized Palm Oil for years, resulting in the loss of tropical forest and threatening species like the Orangutans. Realizing their mistake, those subsidies will be withdrawn.
Another example is that subsidies for sugar cane as a biofuel has prevented restoration of tropical forests in Brazil, and corn subsidies in the USA have encouraged corn plantation in the northern Great Plains disrupting prairie ecosystems and reducing aquifers.
Yet another situation is that subsidies for industrial wind energy have resulted in increased bird and bat mortalities, in addition to the well-documented eco-system disruption. These representative example should make clear that "transformative economic and political changes" can cause more problems than they solve.
I urge Congress to carefully peruse the IPBES claims. Their assertion of a million threatened species does not stand up to scientific scrutiny. Their gross exaggerations appear to be a political gambit to control "transformative changes across economic, social, political and technological factors," while offering very little to improve current efforts to protect biodiversity."